Here at Scaffidi Orthodontics, we know how hard you work to make sure your family's needs are met. You go above and beyond to ensure they have the best of everything, including healthy teeth and a confident smile! But what happens if that doesn't come naturally? Scaffidi Orthodontics is here to tell you why you should trust your family's smiles to an orthodontist.
If an orthodontic treatment looks like it might be necessary for someone in your family, you may be wondering if an evaluation is something your family dentist can handle or if you'll need to consult an actual orthodontist. Although many people believe the two are more or less interchangeable, there are actually some significant differences that set dentists and orthodontists apart!
Our practice is proud to provide expert orthodontic care to patients of all ages in Kenner, New Orleans, Slidell, and the surrounding communities. Dr. David Scffidi is a highly trained and experienced orthodontist who offers families affordable treatment options, outstanding care, and exceptional results! Understanding how our doctor differs from a general dentist will help you determine the best fit for your family, so keep reading below to learn more.
Extra education, specialized training, and added experience
Dentists and orthodontists follow a similar path until they graduate from dental school. From there, orthodontists will complete another 2-3 years of specialized education. During this time, they'll learn how to identify and treat misalignment of the teeth and jaws along with:
studying the growth and maturation of a child's mouth

learning biomechanical techniques to successfully move the teeth

developing their diagnostic skills

working on numerous case studies

training with experienced specialist supervisors
When you lay it all out like this, it's easy to see that quite a lot goes into becoming an orthodontist! While it's true that there are exceptions to every rule, most general dentists simply won't possess this same level of training and experience.
However, every dentist does receive some very basic orthodontic training in dental school. That means that some general dentists can provide a limited range of orthodontic services to their patients. These dentists are often able to sharpen their orthodontic skills through weekend continuing education seminars and related workshops.
The downside to this is that these types of courses aren't able to cover such complex material in any real depth. Even dentists with some orthodontic experience will slack the level of education and training a dedicated orthodontist has.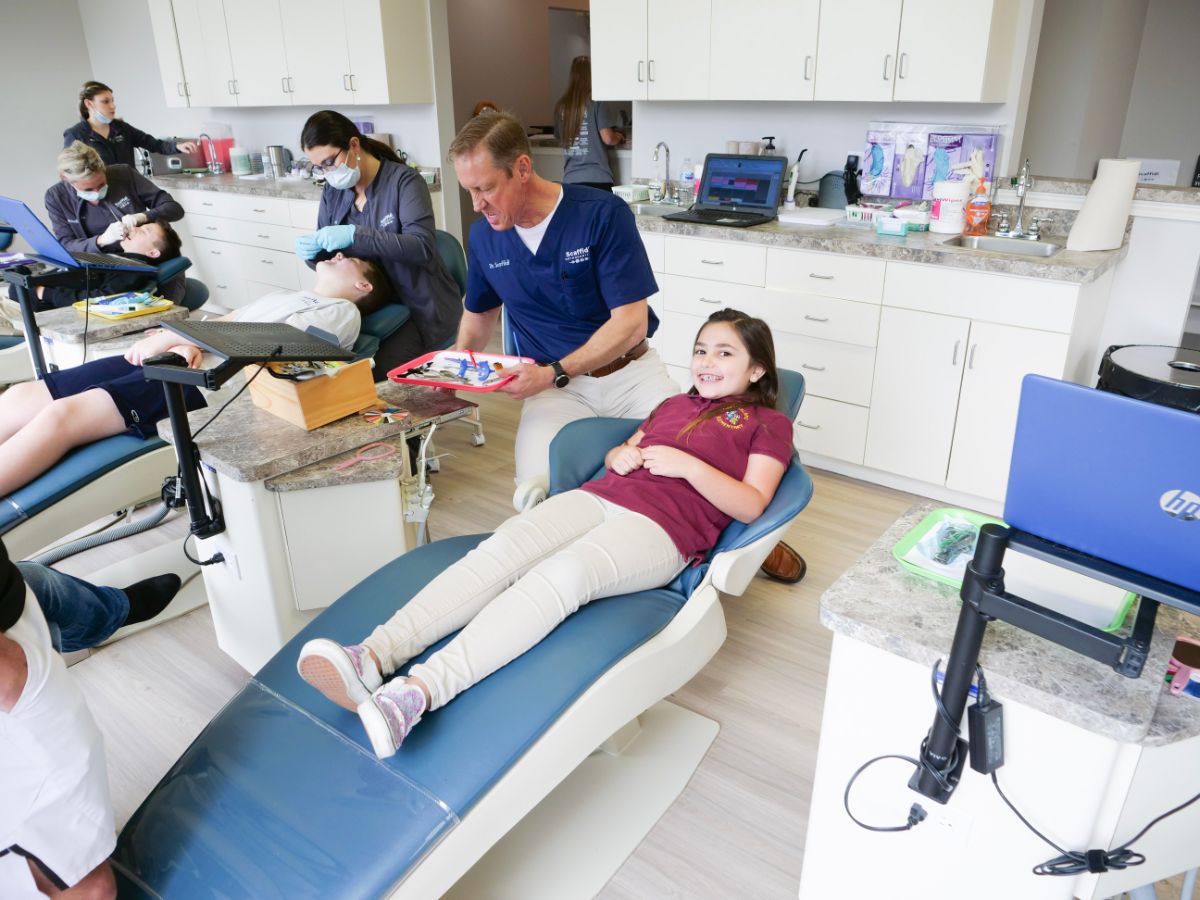 The benefits of choosing an experienced orthodontist
If your family dentist offers orthodontic care, we understand why you'd consider them as an option first. Most of us prefer the familiar over the unknown, and you're already comfortable with their office and team. But before you move forward with orthodontic treatment with your dentist, consider the benefits of choosing an experienced orthodontist like Dr. Scaffidi, including:
a wider variety of treatment options—like the miniature metal braces, InBrace lingual braces, clear braces, and Invisalign clear aligners our practice offers

a customized treatment plan—our orthodontists create a personalized plan for every patient based on their unique needs, lifestyle, and desired results

more efficient treatments and visits—because our only specialty is orthodontics, we're able to guarantee the best possible outcome for your smile!

superior retention with the use of fixed "bonded" retainers to prevent tooth movement when treatment is complete for a long-lasting result
At Scaffidi Orthodontics, our main focus is providing our patients with world-class orthodontic care. Dr. Scaffidi performs teeth straightening procedures every day in the office (5 days a week) and he is constantly working to perfect his technique. Our whole team also stays up to date on the latest in orthodontics with online and in-person continuing education courses, and our cutting-edge technology allows us to give patients the best results in the shortest time possible.
Specialized care produces superior smiles
As the patient, it's your right to choose the healthcare provider that you feel most comfortable with, dentist or orthodontist included. But when it comes to something as important as your family's oral health, we think it makes sense to trust their smiles to an orthodontist with specialized education and training in how to safely and effectively move the teeth.
We happen to have one of the best in the area! While some dentists can provide orthodontic services, Dr. Scaffidi has years of experience in successfully treating a wide range of issues, from simple to severe. Scaffidi Orthodontics is well-known throughout Kenner, New Orleans, and Slidell for creating beautifully aligned smiles and providing patients with a rewarding journey from start to finish!
Orthodontic care with an experienced team can also help avoid any potential complications. There are little details a general dentist may miss that an orthodontist is more likely to notice. Dr. Scaffidi also concentrates on individualized care, recommending only the most appropriate treatment plan for any patient's smile. This helps to reduce treatment times and lessens the chance of any complications. You'll find that our treatment process is affordable, time-effective, and customized for an incredible smile.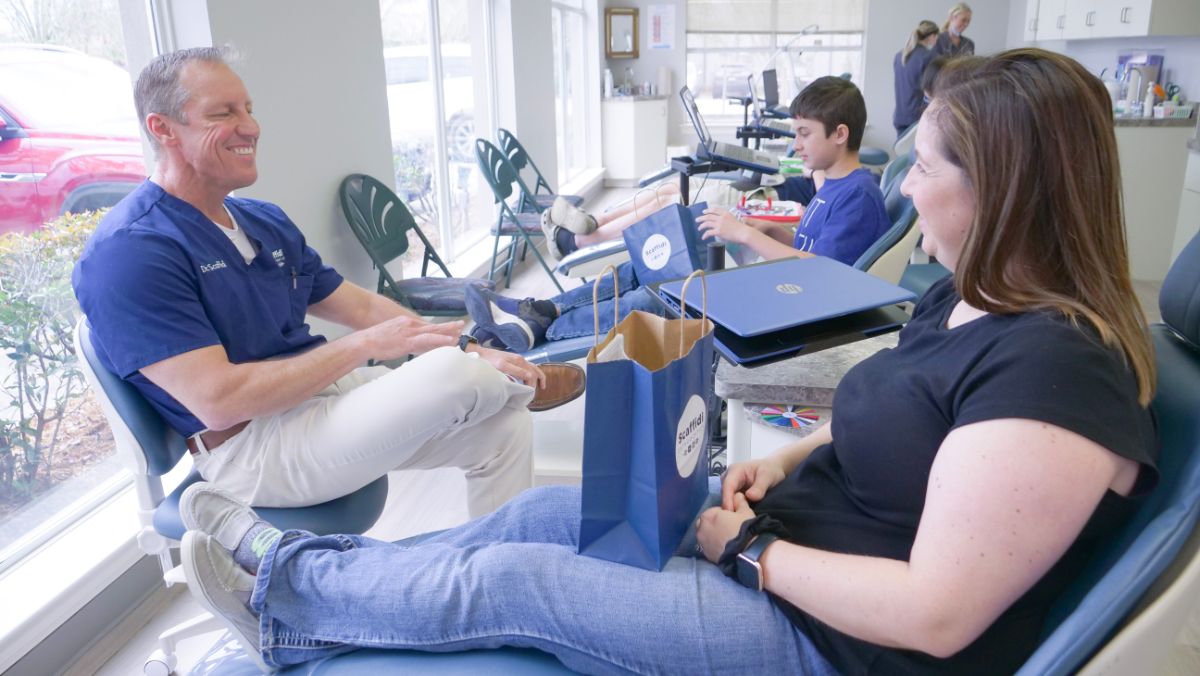 Give your family the best in orthodontic care with Scaffidi Orthodontics
When it comes to a positive and stress-free orthodontic experience, our talented team comes through for your smile! We offer the highest-quality care, the latest in treatment options, and the most innovative orthodontic technology. You'll feel like family from your first appointment, and our service standards can't be beaten. But that's not all! Because our only specialty is orthodontics, we're able to provide a superior experience with long-lasting results our patients love!
When you schedule a FREE consultation with one of our three conveniently located offices, you'll receive a thorough evaluation by our expert doctor. Following this exam, we'll provide you with a diagnosis and personalized treatment plan. Don't worry—this is always a no-pressure visit! Even if you decide not to pursue orthodontic treatment immediately, we'll be happy to answer any questions or address any concerns you have to help you make an informed decision.
Your family deserves the best, and that includes a lifetime of healthy smiles! Get in touch today to schedule your FREE in-office or virtual exam with Dr. Scaffidi.