Your smile says a lot about you, and by the time you reach adulthood, you likely think that's just how it will be, and there's nothing that you can do about it. Whether your teeth affect your confidence or your ability to maintain good oral health by making brushing and flossing difficult, you don't have to put up with it anymore. Dental technology is improving, and Scaffidi Orthodontics will always offer the most comfortable and effective treatments.
When you think of braces, the first thing that springs to mind is probably a metal-clad teen face, and that's not the look you want to sport as an adult. While it is most common to utilize orthodontic treatments such as braces in adolescence, adults make up about one in every five orthodontic patients today. Talk about a positive trend!
You're never too old to benefit from orthodontic treatment, and thanks to cutting-edge technology, gone are the days of painful headgear, clunky bands on every tooth, and overly tight stainless steel wires. Today's orthodontic treatment is much more comfortable than it used to be. Scaffidi Orthodontics offers the latest orthodontic options to make your new smile fast and affordable for patients no longer in their elementary or teen years looking to orthodontic treatment from cosmetic corrections to functionality.
You deserve orthodontic care that reflects your individual needs. Dr. David Scaffidi and his friendly and experienced team believe that an informed patient will have more successful results, so your role in treatment is just as important as ours. Together, we will build your self-confidence and create positive life changes. Let's look at some reasons to get braces as an adult.
Improved overall health
Braces are instrumental in correcting misaligned teeth and other dental issues that lead to further common health problems like headaches, jaw pain, digestion issues, and even sleep apnea.
Improper alignment of your teeth and jaw throughout an adult's life can cause damage to the areas where the teeth meet during chewing and even make the process of chewing itself difficult. When your jaws or teeth do not meet properly during chewing, you risk overexertion of the jaw muscles and complications like TMD or temporomandibular joint disorder. Not being able to chew correctly can result in food not being digested timely or adequately and lead to reflux, indigestion, and diminished nutrient absorption.
Braces also require a little extra cleaning and care, which means your mouth will be getting better overall attention and maintenance. Having straight teeth can make this cleaning much less tricky as there will be less space for plaque and bacteria to build up, decreasing your chances of cavities, tooth decay, and even gum disease, and more room to floss with better access to your gum line.
Aesthetics and the confidence of a perfect smile
Your self-esteem depends significantly on your teeth, and a crooked smile or misaligned bite can leave you feeling less confident when all eyes are on you. You may notice you shy away from personal conversations or avoid having your photo taken only to give a less-than-thrilled, lips-only grin when you can't escape. For some patients, the positioning of your teeth may even affect your speech by causing your tongue or lips not to attain the position necessary to make certain sounds.
Here at Scaffidi Orthodontics, we believe that the essence of good oral health is creating confidence and pride for our patients in the Slidell, Kenner, and New Orleans areas. Orthodontic treatment is more than just straightening teeth, and our care philosophy embraces science and art to give you the best possible results!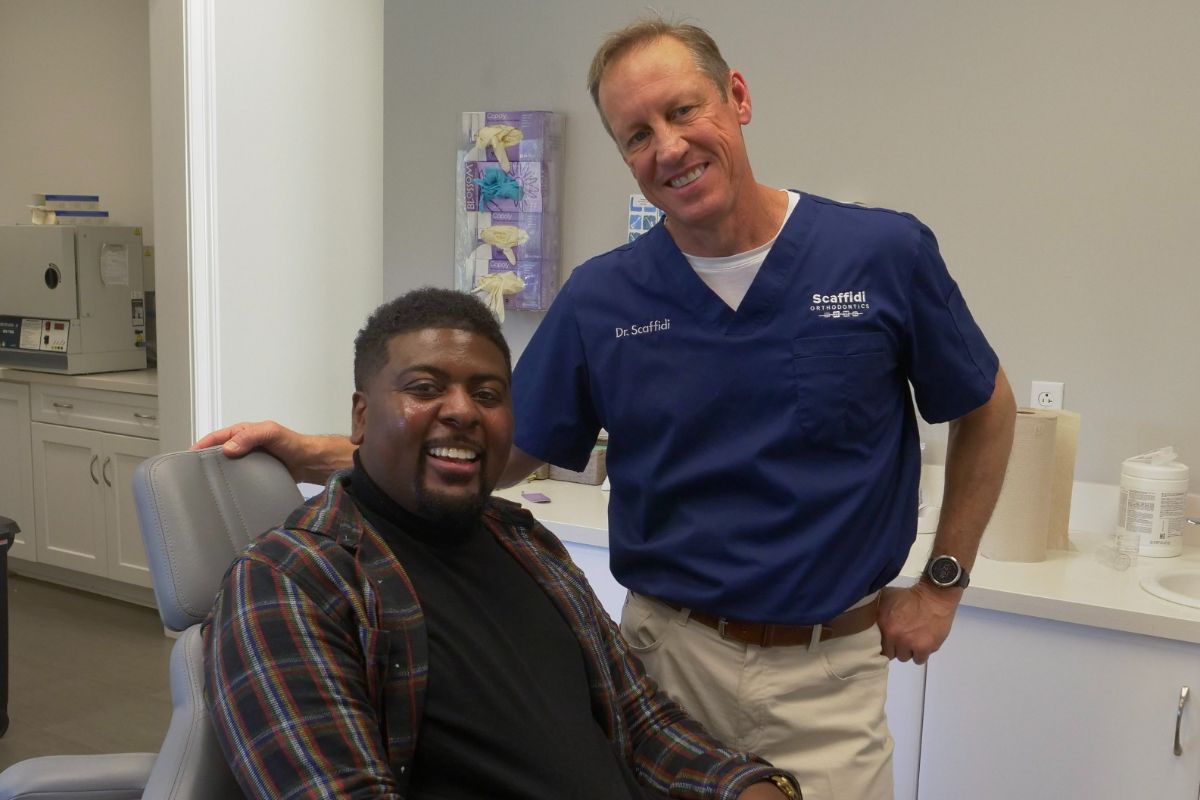 Variety of treatment options
You can get the most recent orthodontic treatment at Scaffidi Orthodontics. Depending on the severity of your adjustments needed, your options may include traditional metal braces, clear braces, Invisalign, or the In-Ovation self-ligating braces. In some cases, a combination of treatment options can improve the efficacy and time necessary for adjustments.
Metal braces
Traditional metal braces are the most time and cost-effective orthodontic treatment. Modern braces have come a long way in recent years and are made of high-grade stainless steel brackets connected by metal wires that are gradually tightened to adjust your teeth over time. The brackets are secured to your teeth with special glue, and the elastic bands that help secure the archwires come in dozens of colors for personalization and fun.
Clear braces
This treatment method works the same way their metal option works but utilizes a clear or tooth-colored ceramic instead of metal for a barely-there appearance. Older teens and adults prefer this option for the incognito approach. Still, it is worth noting that this option is more susceptible to breaking or staining depending on your eating and lifestyle habits due to the polycrystalline ceramic not being as durable as the mix of high-grade metal used for standard braces.
Invisalign and Invisalign Teen
This innovative system straightens teeth without brackets, bands, or wires, unlike braces. The Invisalign system is made of clear acrylic aligners that fit over your teeth. They are removable, making it easier to eat, drink, brush, and floss, but to be effective do need to be worn for about 22 hours a day during your treatment process. The trays are replaced every one to two weeks to keep consistent pressure in adjusting the teeth and jaws the way you need to get your goal smile!
We are also excited to offer Invisalign Teen, which adds an inconspicuous dot in the back of the aligner that changes from blue to clear to white depending on how often they are worn. This option also provides more replacement aligners than standard Invisalign to account for the wear and loss that can come with being a teenager.
In-Ovation Self-ligating Braces System
The In-Ovation system uses self-ligating brackets with spring-loaded doors, so you won't need to deal with ties and bands. You also won't need to have your braces tightened, making them virtually painless. Your teeth can move freely without the added pressure of ties holding the archwires in place. This mobility allows the system to work faster while also making it easier to keep your teeth clean and healthy.
Cost-Efficient- Now and Later
It's no secret that your oral health is strongly connected to your overall health, and there's never been a better time to consider orthodontic treatment. When combined with proper dental hygiene, Braces can decrease your chances of cavities, gum disease, costly procedures like tooth extractions or specialists that treat symptoms, not culprits, and the chance of prosthetics in the future. Specific orthodontic issues like misaligned bites can wear down your teeth can lead to chipping, cracking, and even total loss, which will cost you much more in the end.
Scaffidi Orthodontics has improved patients' self-confidence, appearance, and health by being committed to making orthodontics affordable for you and your family. We emphasize exceptional service, offer flexible payment options, and file your insurance forms to ensure you are getting your maximum benefits before creating a plan that works best for your budget.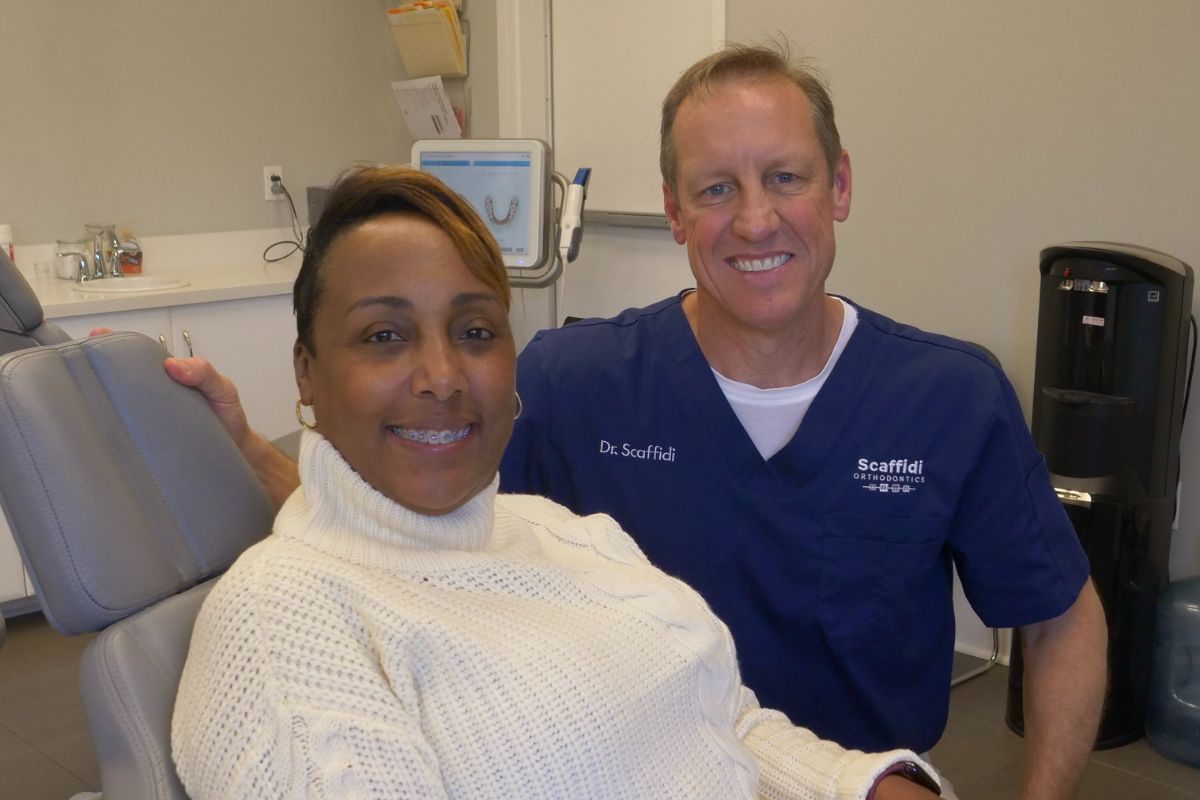 Trust your smile at any age to Scaffidi Orthodontics.
All treatments have their own lists of pros and cons, and we know you have a unique set of needs with your unique smile, no matter your age. Whether you want to keep this journey more inconspicuous, prioritize comfort over aesthetics, or simply want the option that gets you to your perfect smile fastest, Scaffidi Orthodontics has been the standard in Southern Louisiana smiles for years.
Our warm and fun offices feature advanced technology to make choosing your orthodontic treatment options a little less daunting. If you still have questions about getting braces as an adult, our happy and well-trained orthodontic team would love to meet you for your FREE consultation to get you started on your journey to a confident smile.